Project 2020
Project 2020 began as the 2020 Club, a donor giving circle in which donors became "investors" by purchasing "shares." Through small but consistent donations, the 2020 Club raised money to establish a major initiative in the community that would positively impact and improve the quality of life in Bryan now, and generations to come.
Capturing the charitable spirit of the community, this group challenges the current and next generation of leaders to step forward and actively engage in making Bryan a great place to call home.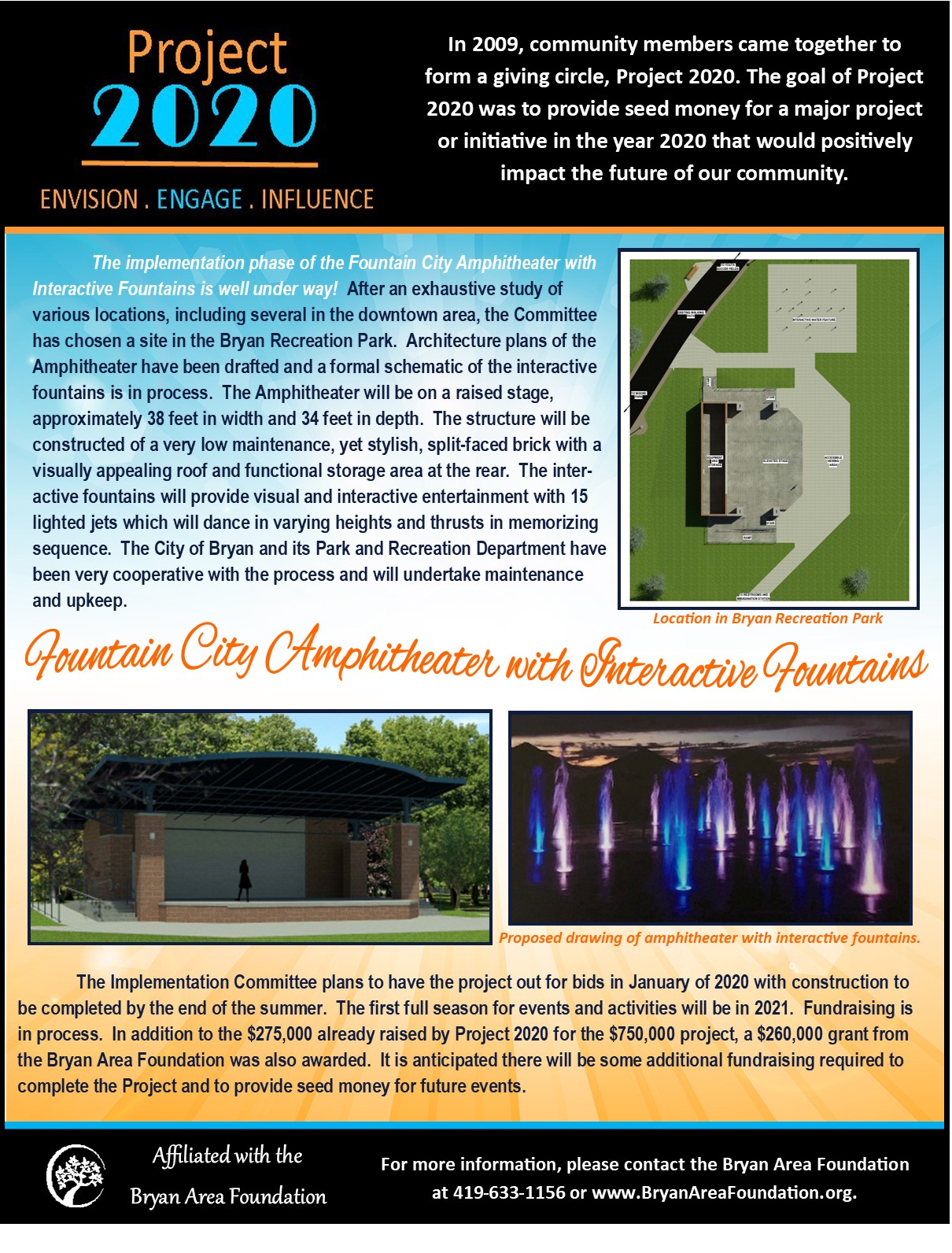 Building the Fountain City Amphitheater!
Construction of the Fountain City Amphitheater was completed in the fall of 2020. The 2nd phase of the project, installation of the interactive fountains, is expected to be completed in the fall of 2021.
Project 2020 Shareholders
| | |
| --- | --- |
| Mike & Dina Culler | Glen & Ann Newcomer |
| Christopher & Elizabeth Cullis | Chad & Diana Savage |
| Damian & Dr. Carolyn Dorsten | Michael & Jane Shaffer |
| Dr. Jon & Dr. Laura Eckhardt | Bill & Pam Steel |
| Phil & Mary Ennen | J.T. & Georgia Stelzer |
| George & Robin Gardner | David Swanson |
| Dr. Craig & Bernadette Herman | Chad & Dr. Jodi Tinkel |
| Renee Isaac | Kirk & Sarah Vashaw |
| Dr. Jason & Meg Kunsman | Howard & Ann Vreeland |
Additional Donors
Randolph & Naomi Bard Fund
Dean & Ann Spangler
Kevin & Stacey Bock
Jesse & Heather Teegarden
Tim & Meg Herman
Mike & Jennifer Winzeler
Jayne & Roger McKelvey
Kirk & Sara Yosick
Mitchel & Rhonda Owens
Bryan Area Foundation
Carol Schreder
Power in the Purse
State of Ohio through the OFCC