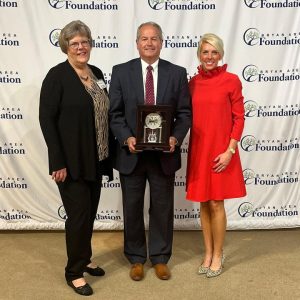 Congratulations to Bill Martin for receiving the Howard C. and Mary Allene Hawk Good Citizen Award for 2023. This prestigious honor is presented annually to one of Bryan, Ohio's distinguished citizens who has been a resident for at least 20 years and has served in an unpaid capacity within an organization benefiting the community.
Nominated for the award by multiple people, Bill has been involved and continues to volunteer in various groups, including but not limited to the Bryan Area Foundation, Bryan Athletic Boosters, Bryan City Schools, Bryan Rotary, St. Patrick Church, Williams County Port Authority, Williams County YMCA, and many more.
Presenting Bill with the award are left to right, Bryan Area Foundation Chair Diana Moore Eschhofen, recipient Bill Martin, and Bryan Area Foundation President/CEO Amy Miller.